The Simone de Beauvoir Audiovisual Center has, since 2005, regularly been participating in workshops in schools, from primary school to the last year of secondary school. Our aim in the workshops is for each person to think about the construction of representations while enjoying the cinema at the same time. Each session is planned and carried out with the education team and the Center's professionals.

Workshop for cinema analysis wearing genre glasses
To update and deconstruct the mechanisms and genre stereotypes, we use various audio-visual documents: short films, fiction, extracts from TV programs, television news, ads, documentaries. Deciphering images and sounds deconstructs the characters, situations and filming techniques.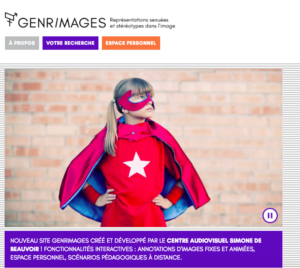 A tool box: our Genrimages site
This site, conceived by the Simone de Beauvoir Audiovisual Center, offers exercises, analyses and resources to learn to catch and decode stereotypes in audiovisual documents in order to prepare the debate:
www.genrimages.org