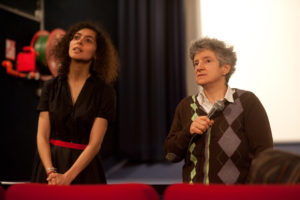 Working with ACRIF (Association of research cinemas, Ile de France), the Simone de Beauvoir Audiovisual Center has been participating for several years in the Ile-de-France program for high school students and cinema apprentices.
This national program of image education enables students to see the films that are part of their school curriculum in participating theaters and to take advantage of cinema professionals coming to their schools.
The Center participates in the whole program and has developed a specific line
"For a feminist reading of films on the school program" by the Simone de Beauvoir Audiovisual Center.
We provide a way of understanding the mechanisms of viewing, to take advantage of all the cinema has to offer; this program provides a feminist and critical experience and promotes our perceptions and analyses.