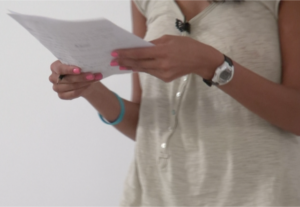 Training course in a prison environment
One of the Simone de Beauvoir audio visual center's objectives is to promote cinema to many audiences and in particular to people imprisoned. The monthly projections at the Fleury Merogis Women's Prison enable prisoners to see quality movies, projected on a big screen, preferably in the original language and accompanied by cinema professionals.
The sessions are presented by Nicole Fernandez Ferrer, general delegate of the Center and by a cinema professional (actress/actor, director, technician, writer) or another (academics, reviewers, journalists, etc.). After each film there is an exchange about the artistic approach, the points of view and the technical aspects.
Programing explores the history of women's representation in the movies and concentrates on independent cinema, and works by movie makers from different countries and generations. These sessions enable a reading in relation to the themes of the films and to link the programing to library work or the reading group. The Simone de Beauvoir audio visual center works closely with the group "reading is living" (its aim is to promote reading in prison and libraries in Fleury Mérogis). This work shows the links between reading and films, between cinema creation and other forms of contemporary art.
Cinema professionals like Keren Yedaya, Julie Bertuccelli, Agnès Varda, Isabelle Huppert, Solveig Anspach, Benoit Jacquot, Hiam Abbas, Maria de Medeiros, Abderrahmanne Sissako, Tony Gatlif, Patricia Mazuy, Daniele Arbid, Elie Wajeman and many others have presented their work and discussed it with the prisoners.